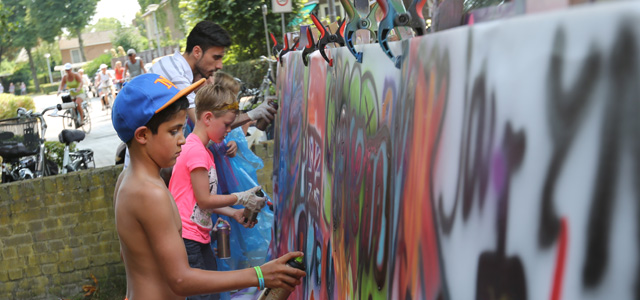 Graffiti Workshop als open-inloop in Breda
De open-inloopworkshop is de ideale variant wanneer je iedereen een klein beetje wilt laten proeven van de graffiti experience. Afhankelijk van het evenement, festival, of bijvoorbeeld een familiefeest wordt er een x aantal panelen of een mobiele muur weggezet, waarop gewerkt kan worden. Iedereen die even wat wil maken om te kijken uit welk hout hij/zij is gesneden kan een poging wagen. Dit kan geheel worden afgestemd naar jullie wensen, daarbij kun je rekening houden met tijdsduur, groepsgrootte of leeftijd.


Klik hier voor meer informatie over de opbouw van de graffiti workshopgraffiti workshop in Breda.
Deze Graffiti Workshop is tevens te combineren met de volgende onderdelen:
Het is tevens mogelijk dat wij de graffiti workshop in het Engels verzorgen.
klik hier voor meer informatie over de prijzen, opbouw, begeleiding, materialen en locaties voor de graffiti workshop in Breda.